Course Director, St George's College, Jerusalem

I am the Course Director at St George's College in Jerusalem (since October 2013). I administer, lead and teach 10 to 14 day courses on the Holy Land for lay and clergy, seminarians and bishops. Our courses include Palestine of Jesus (a Christian introduction to the Holy Land), Sharing Perspectives: Muslims and Christians in the Holy Land, Risen with Christ (Holy Week in the Orthodox Tradition), Ways in the Wilderness and Children of Abraham. For more information on the college, visit our
college website
.
---
Scholar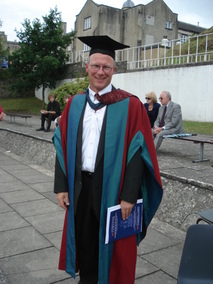 University of Wales, Lampeter, 2008
PhD (Wales), MA (Wales), MDiv (Duke), BA (Southern Methodist)
Research Interests:
I am a Jerusalem scholar interested in Christian pilgrimage to the Holy City. I am interested in pilgrim practices and spirituality, past and present, and the sacred topography of holy places. I also have a background in Celtic Christianity,
Native American studies and topics of race and culture (19th century to present).
Books:
The Christian Topography of Early Islamic Jerusalem: The Evidence of
Willibald of Eichstätt (700-787 CE)
(Turnhout, 2009). See review by Jerome Murphy O'Connor in
Revue Biblique
117 (2010), 633-34.
For more on my academic background, including a full listing of publications and papers, see
scholar page
.
Blogs:
Medieval Milanetc, Culture Quarks
Medieval Milanetc
is dedicated to the religious imagination of the city of Milan.
Culture Quarks: Cultural Nuances in a Global Universe
is a blog discussing topics of race and culture.
Culture Quarks provides a forum for understanding and celebrating cultural diversity, for exposing inequities between cultures and for developing new paradigms in intercultural dialogue.
---
Pastor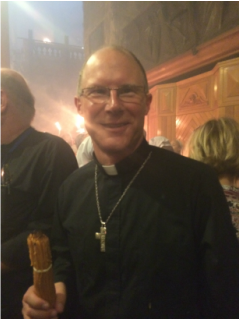 Holy Fire Ceremony, Jerusalem, 2014
Credentials:
I am an ordained elder in the New Mexico Annual Conference of The United Methodist Church. I am currently appointed to the position of Course Director for St George's College, Jerusalem.
Pastoral Experience:
Pastor, Chiesa Evangelica Metodista, Milan and Novara, Italy (2011-2013)
Director, Four Corners Native American Ministry, Shiprock, NM / Navajo Nation (2008 - 2011)
For more on my ministry with the Navajo Nation, see
Duke Divinity Magazine
.
Resident Pastor, St Anne's Kirk, Church of Scotland, Papa Westray, Orkney, Scotlad (2003, 2005, 2006-2007)
Protestant Chaplain, Philmont Scout Ranch, Cimarron, NM (2002)
Saturday evening worship leader, Community United Methodist Church, Elm Grove, WI (2001 - 2002)
Associate Pastor, Sequoyah United Methodist Church, Fayetteville, AR (1997 - 2000)
Pastor, Calico Rock Charge, Calico Rock, AR (1993-1996)
Assistant Pastor, Cadder Parish, Church of Scotland, Bishopbriggs / Glasgow, Scotland (1992 - 1993)
Student Pastor Internships
Assistant Chaplain, Methodist Retirement Community, Durham, NC (1990-91)
Student Pastor, Cherokee County United Methodist Parish, Cherokee County, NC (summer, 1991)
Student Pastor, Trinity United Methodist Church, Troy, NC (1988-89)
Youth Pastor, Highland Park United Methodist Church, Dallas, TX (1986-87)
---
Pilgrim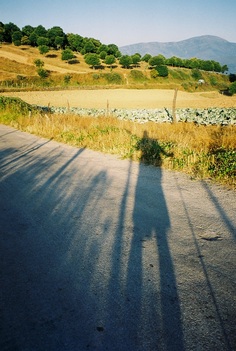 Self Portrait: Along the Camino de Santiago (1999)
Whether it's been the peripatetic life that I have lived since moving my senior year of high school or academic studies that have caught my intellectual imagination, or a spiritual affinity to the concepts of time, space and journey, pilgrimage has become my vocation and my hobby, a central theme in both my professional and personal lives. I have participated in pilgrimage, including an around-the-world journey in 1996-97 and 800 miles of the
Camino de Santiago
in Spain (1999, 2001). I have pursued academic studies on the subject, attaining a MA in Celtic Christianity and a PhD in theology, with a research focus on Christian pilgrimage to Jerusalem before the Crusades. I embrace the ideas of pilgrimage and its counterpart, hospitality, in my professional ministry.
Pilgrimage has many themes and many definitions: it's the calling of Abraham to live outside one's country (Genesis 12), it's physical travel to a place of significance, it's a metaphor for life's journey -- and many other things as well. For many (myself included), pilgrimage is a choice, often a priviledged one -- a trip to the Holy Land, a spiritual retreat or a walk through the Labyrinth. These experiences are invaluable.
For many others, the immigrants and refugees of this world, pilgrimage is anything but a choice and comes at a high and unwelcomed price (see
Culture Quarks
). A fellow pilgrim, Sister Giovanna of Assisi, who walked the streets of Italy for years, once told me: 'By being pilgrim, my heart learns to hear the cries of those who have no choice but to be pilgrims'. For more on my pilgrimage experiences, see
pilgrim page
.
---
Family Camp Director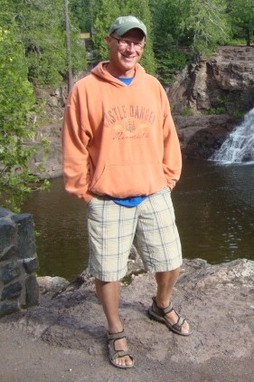 For over twenty-five summers, beginning in 1985, I have been a camp counselor and
Family Camp
director at
Camp Lincoln / Camp Lake Hubert
in Northern Minnesota. The Family Camp at Camp Lake Hubert has been ranked as one of the top ten family camps in America and has been featured on NBC's
Today Show
.
What makes our camp unique is that we do not have separate programs for the young and old -- families are always together. The family camp is a traditional activity camp offering the following regular activities: sailing, horseback riding, riflery, trap shooting, archery, high ropes, low ropes, bog hikes, fishing, biking, canoeing, kayaking, wind surfing, paddle boarding, waterfront activities (zip-line, weenie and waterwheel) and lots of crafts -- pottery, tie-dye, candle-making, beading and lanyards, etc..
Special activities and opportunities includes: our one-of-a-kind snow tumbler museum, an ever-popular coin hunt, random acts of kindness (aka, pranks), a polar bear swim and sauna club, sunrise painting, pontoon lunches, campfires and s'mores, skit night, county fair & bingo night, late night mellow time in the lodge. More subdued activities include hanging out in the amazing tree house, taking a nap in one of camp's many hammocks, listening to the loons and star gazing on the dock. The Northern Lights are never too far away!
It's the old friends that I've made and the new ones that I make that keeps me coming back year after year.
As we say, camp friends are best!
---
Storyteller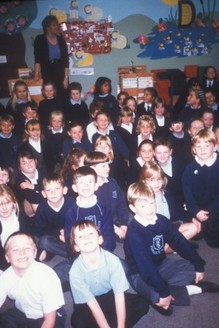 Sharing Stories with Scottish Schoolchildren

I have been telling stories now for some twenty years to churches, schools, retirements homes and camps, to friends and family, to kids the world over.

Telling stories has been really easy because . . . one, I had an amazing dog named Ginger whose many adventures I tell in my collection, The Many Adventures of Ginger the Amazing Dog. And, two, we had a family station wagon growing up, which has become the center piece of Station Wagon Stories, including stories of getting lost in a large department store with my annoying younger sister, the time I was in charge of getting the Sunday School Christmas tree (titled: An Odor Pleasing to God), the time the station wagon broke down in Humansville, Missouri on the way to Arkansas and other childhood stuff told exactly as I remember it.

I also have a rich collection of stories from my global travels. And a number of traditional favorities -- The Storytelling Rock, The Golden Gorilla as well as some Jack stories. I particularly like telling stories during campfires at family camp and to church and school groups.



---
People and Places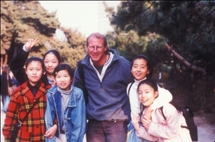 Photo: Korea, 1997
Significant travels (global):
An around-the-World trip to 20 countries and 6 continents in 1996-97, home stays in Late Communist-era Eastern Europe, 1988 - 1990 (Soviet Union / Russia, Belarus, Ukraine, E Germany and Czechoslovakia), tours of The Middle East (Israel/Palestine, Jordan and Egypt), while living in Jerusalem, 2005 - 2008 and Spanish lessons and church-related travels to Latin America (Costa Rica, Mexico, Ecuador and Guatemala), 1996, 2000 and 2002.
Places lived (abroad):
Denmark (Lyngby), Scotland (Bishopbriggs/Glasgow, Papa Westray/Orkney), Germany (Bonn), Wales (Lampeter), Jerusalem, Italy (Milan).
Places lived (US):
Arkansas (Little Rock, El Dorado, Jonesboro, Calico Rock, Fayetteville), Arizona (Tempe), Missouri (Warrensburg), Texas (Dallas), Minnesota (Lake Hubert), North Carolina (Durham, Andrews), Washington, DC, Vermont (Landgrove), Wisconsin (New Berlin), New Mexico (Cimarron), Navajo Nation (Shiprock), Colorado (Aurora).
Organizations:
I am an associate member of
The Iona Community
, a dispersed Christian ecumenical community working for peace and social justice, rebuilding of community and the renewal of worship.
---
Interests and Hobbies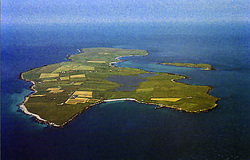 The Isle of Papa Westray
Favorite Places: Papa Westray, Orkney/Scotland (pictured), North Shore of Lake Superior, Minnesota/USA
Other special places: Iona (Scotland), Jerusalem, Ozarks, Denmark.

Outdoor Activities: Hiking, camping, canoeing, music and storytelling festivals
Favorites: Superior Hiking Trail (Minnesota), Canoeing in the Ozarks, Four Corners Folk Festival (Pagosa Springs, CO), National Storytelling Festival (Jonesborough, TN).

Scottish/Irish fiddle and American Bluegrass music: Advanced beginner/low immediate level on 5-string banjo, fiddle, guitar, 4-string banjo and Irish penny whistle . . . maybe I just collect instruments.

Been there/Done that: Dublin Marathon 2003, Camino de Santiago 1999, 2001.

---
Contact Me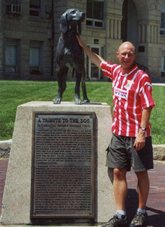 Rev. Rodney Aist, Ph.D.
rodney@rodneyaist.com
Skype: rodneyaist
facebook
Photo: Rodney with Old Drum in hometown of Warrensburg, Missouri, USA
---